Japan and China 2013
On April 24, 2013 Simone and I began an amazing 3-week odyssey that included:
A week of (me) driving Simone, her sister Wen-Chien and daughter Juin-Juin through much of Hokkaido, the northernmost island of Japan.
9 days (just Simone and me) in China capital Beijing, including a 2-day side trip to the northern city of ChengDe.
4 days in Shanghai, which is much more cosmopolitan than Beijing.
The best part of the vacation may have been the second location that we walked the Great Wall of China...JinShanLing. Simply breathtaking...
These photos were taken in Hokkaido, Japan:
These photos were taken in Beijing, ChengDe and Shanghai:
"Euro-Eleven"
In late 2011 Simone and I visited her sister Yanan in France and my brother Terry, nephew Steven and their families in England. The two-country, lots-of-driving vacation was a blast! Click the map at right (or click here) to read text and view photos from "Euro-Eleven."
Here's a toe-tapping, fast-moving video travelogue of "Euro-Eleven:"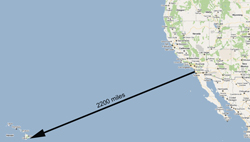 Hawaii Cruise 2010
In December 2010 Simone and I took her mom and sister on a two-week cruise to/from Hawaii. Crossing the vast Pacific Ocean, with no other ships in sight for days in a row, was an awe-inspiring experience. We visited Hilo, Honolulu, Niumalu (Kauai), Lahaina (Maui), and (after returning 2200 miles to the West Coast) Ensenada, Mexico.
(Click a thumbnail to see larger version of photo.)
Here's a toe-tapping, fast-moving video travelogue of our Hawaii cruise:
...more photos coming soon!