In October 2015 I sold my 2007 Honda GL1800 motorcycle, thinking that was the end of a wonderful 38 years of motorcycling. A year later I couldn't stand being bike-free, so I bought a pristine 1993 Honda ST1100. Unfortunately I had to sell it six months later because of sharp pain in my left thumb whenever I pulled the clutch lever. The doctors finally diagnosed the problem: arthritis. The solution is my current ride, a 2016 Honda NC700X that does away the the clutch lever in favor of a DCT transmission (similar to those in Mercedes AMG and BMW M-series). I can ride again!
Here are a few photos of my current NC700X:
Just before the NC I briefly owned this pristine 1993 Honda ST1100...the second ST1100 I've had over the years. (The other one was a black 1999 model...further down this page.)

I've enjoyed owning and riding quite a few motorcycles over the years. I started on dirt bikes, then had long affairs with different classes, including sport bikes, sport-tourers, cruisers, dual-purpose bikes and luxury-tourers. My favorite bike was a 2007 Honda Gold Wing ABS with a stiffened, aftermarket Traxxion Dynamics suspension tuned for canyon carving. The 6-cylinder 1800cc engine had tremendous torque. Long-distance riding comfort was helped by a 6-speaker, iPod-driven sound system, heated seat/grips, a built-in GPS and an espresso maker. (Just kidding on that last one).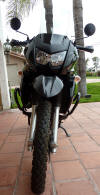 During the year 2011 I had a second motorcycle in the garage: a 2009 Kawasaki KLR 650 dual-purpose that I'd modified into an eye-catching bike. It was all black, de-badged, had SW Motech crash bars, PMR side guards, JNS skid plate, ProTaper SE ATV-Mid handlebars, Rox Anti-Vibe risers, Bajaworx Dakar windshield and Acerbis-type handguards. That's fellow KLR rider buddies Gary and Chris with me, riding Main Divide trail south of Lake Elsinore, July 2011. We ended up in Temecula that day...but not via paved roads. I sold the KLR, realizing I simply had too little free time to ride it.
Other recent motorcycles include (seen below in order): 2007 Yamaha FJR1300 (first 2 photos); 1999 Honda ST1100; 1998 Honda GL1500; and an embarrassingly Harley-esque 1994 Honda VT1100.
Fondly remembered motorcycles from the not-so-recent past include (seen below in order): 1979 Kawasaki KZ1300; Honda Nighthawk 650SC (the world's fastest production 650cc bike at the time); 1982 Honda XL 250R (first motorcycle I purchased new from a dealer); Honda 750-Four.
The FIRST motorcycle I bought was back in 1977, at age 19, while serving in the US Navy in Pearl Harbor, Hawaii. It was a 1971 Yamaha R5, a 2-stroke 350cc bike that I nicknamed "Paco."
Below: Funny license plates evoke smiles in my rear view mirror; My longtime riding buddy Steve Foley and I at the famous Rock Store in Malibu; Steve and I riding with friend Greg Cummings, who'd ridden all the way to California from Ontario, Canada; Renting a Yamaha FJR1300 while traveling to Dallas; a long (400+ mile) ride with fellow FJR1300 owners; I'm a big fan of Italian-made Nolan flip-up helmets, as evidenced by this new N103 model with mic and speakers.
Motorcycling is a serious, inherently dangerous sport that can kill even the most experienced riders. On several occasions on Southern California canyon roads I've seen dead riders on the side of the road, covered by a sheet, and surrounded by police crash investigators.
Several friends, including Bob, Rita, Cheyanne, Bassel and Myron have been seriously injured while motorcycling. Sadly, motorcycling friend Rich Daniels died in a crash during a solo ride in May 2006. The photos below show Rich (in white short-sleeves) with our mutual friend Dr. Phil Weida during our 2-day ride up to Paso Robles in 2003. Rest in peace, Rich.